Black Friday Blowout: Save Big All Weekend!
For Black Friday week, we have four special deals on music distribution. With savings up to 50%, these promotions were designed to help you get your music into the world. But you have to act fast! These deep discounts only last until Tuesday, December 3rd.
The EP Builder
Looking to build momentum? Check out the EP builder.
Put out a single a month for two months and drop your EP with all three tracks in the third month. It's the best way to build up a playlist, blog, and fan excitement — and if you purchase this pack now, you'll get two singles and an EP for 50% off the regular retail price of buying them each individually.
Sign In To Compare All Offers
Small Business Saturday: The Label
Small businesses are the backbone of our economy -- and independent record labels are the foundation of today's music market. That's why we want to celebrate Small Business Saturday with 30% off our popular Pro Unlimited plan all weekend. With unlimited releases for a year, 0% commission, and Artist Pro included with every release, it's the perfect plan for independent labels or high volume artists. Ready to start your label?
Sign In To Compare All Offers
Cyber Monday: The Rockstar Pro
What do you get when you combine 0% commission of our Rockstar package with the suite of commercial-grade promotional tools from our Artist Pro add-on? Rockstar Pro, a special bundle designed just for Cyber Monday. Single, EP, or album, no matter which Rockstar release you order, you get Artist Pro — a $39 value — for free. That's 10 tools, including a personalized promo player, pre-saves, pre-orders, and more absolutely gratis. Give your release a boost and energize your fans with this limited time offer.
Sign In To Compare All Offers
Or get your release ready now and save 30%!
Not looking for a bundle? No problem! Choose any release date, get your release ready now, and save 30% off your order. Whether you want to distribute a single, EP, or album, if you upload and pay for distribution by Tuesday, December 3rd, you'll benefit from 30% off the price of an individual release. Simply enter the promo code 'IMBLACKFRIDAY' when you checkout and the discount will be automatically applied.
Sign In To Compare All Offers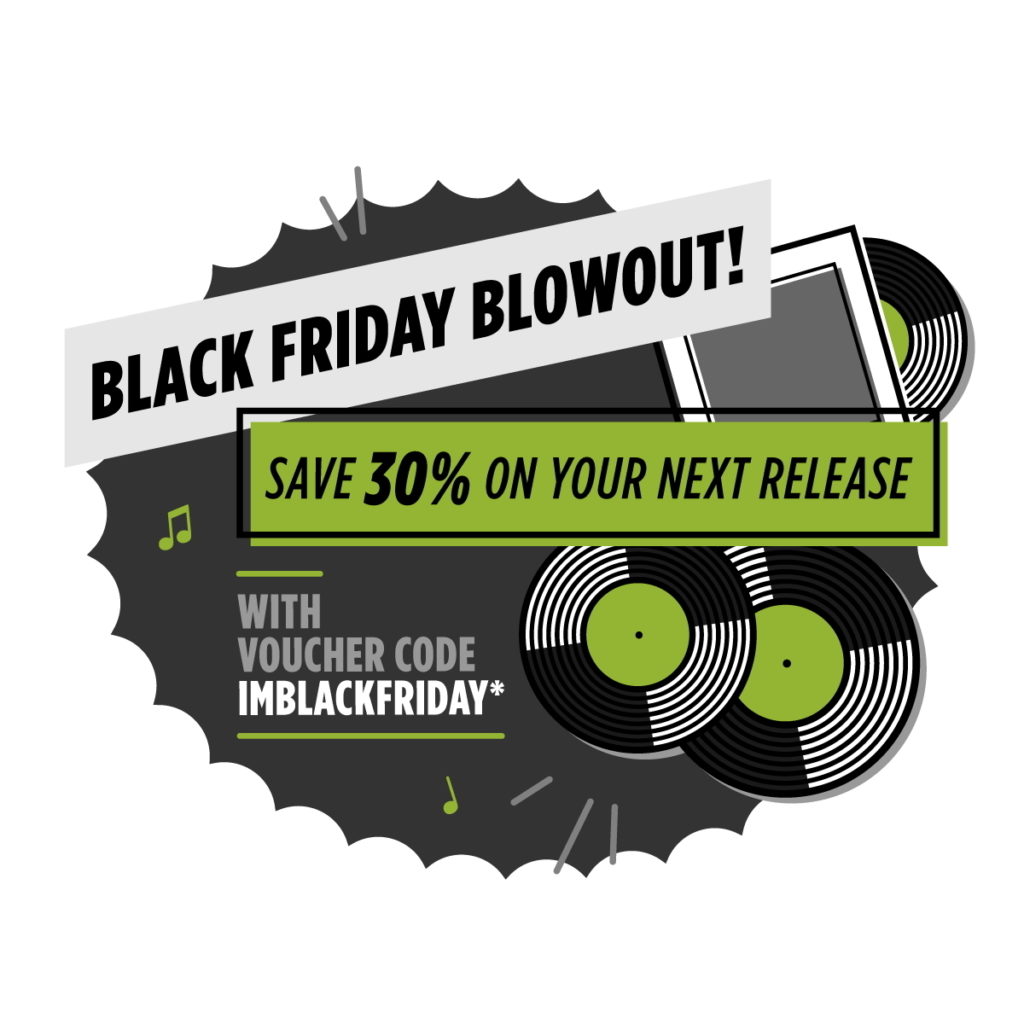 How the Bundles Work
Our Artist & Label Managers designed these packages (The EP Builder, The Label & Rockstar Pro) specifically to help you easily plan your release strategy, get your music online, build your fan base globally, and make money.
And if you buy now, you'll get these proven strategies at a discounted rate. Simply purchase the pack that's best for you, and you'll see promo credit in your account.
This credit will last forever, so you can release your music whenever you're ready. Plus, if you change your mind, you can use the promo credit towards other purchases on our platform.
Find out how to benefit from this limited offer in our FAQs.
Why iMusician
From heavy hitters like Spotify, Apple Music, and Amazon, to genre-specific shops like Beatport and Traxsource, as well as hi-res retailers and popular regional shops globally, iMusician makes it easy to reach fans around the world.
With no annual fees and no minimum payouts, you simply upload once, and get cash forever. Plus, our international team offers you quick and easy support in your own language.
Try it today and join a community of over 120,000 independent musicians who trust iMusician to help them sell their music online. Are you next?
Reach your fans all over the world
Free, easy and quick set up
Personal support in English within 1 working day
Pay only once per release, no recurring fee
Sell your music in hundreds of online shops worldwide
Use one of our label for free or create your own